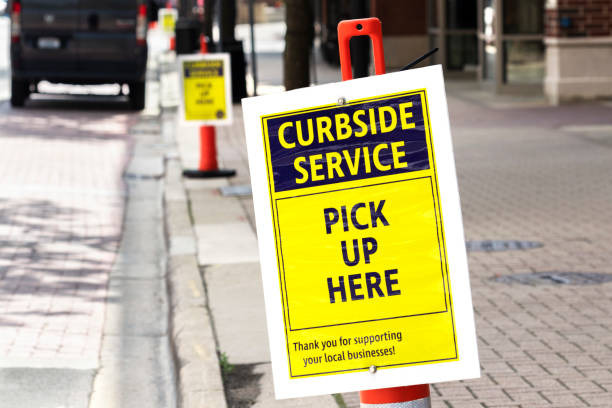 Historical events usually generate  unique responses, oftentimes  providing a useful solution, designed to fill a need. The lingering COVID-19 pandemic has  given us such a solution: curbside service delivery.  Perhaps, like many others all over the country,  you  showed up at your neighborhood supermarket  one day to find signs saying "Pickup Here."  At first the operation may have looked a little clumsy–like trial-and-error–but now it has become the going thing, as  retail stores and grocery chains, even restaurants, have all  adopted the new sales strategy, created to fill a  perceived need.  One  outlet has put a  classy spin on its service by calling it  Curbside Concierge. Apparently, it's possible to  become sophisticated in a hurry.
The thrust toward curbside service got underway quite early in the pandemic. Several months ago at the supermarket where  I shop, I noticed employees going from aisle to aisle pushing carts with bags attached to them.  As they went,  they dipped into  bins and reached up on shelves,  picked out items, scanned the prices, and placed the items in the  bags on the cart. I watched them and wondered whether they were   removing spoiled or outdated food. I needed to know so that I could avoid picking up  spoiled food items.  Curious Kate that I am,  I finally asked one of the employees doing the sorting  what she was doing. She explained that she was selecting items for pickup service.  Now I can watch them go about their job of filling orders without becoming alarmed that I might be unknowingly purchasing spoiled food.
Curbside service may be the only positive outcome of the pandemic. A New York Times Business article  states that  curbside service  continues people's love affair with their cars, giving them a chance  to drive even though they don't go into the store. The Times  article reports that Walmart employs 74,000 workers in over 3,000 stores just to pick up groceries on orders  and take them out to the customers' cars  anchored at curbside. Also, the article states that Target's business in drive-up service grew more than 700%  in the last quarter.
My neighborhood library has gotten into the curbside delivery business also. I called in and ordered a couple of  books, and when I drove up to the front entrance, I phoned the desk as I had been instructed to do, and a librarian came out to my car—masked, of course—had me read off  my library card number and then placed the books in my car trunk (instead of handing them to me). Simple and easy. This same  kind of convenient service occurred with my COVID-19 test. I drove to the designated place and remained in my car. A nurse came and stuck a swab into my nostril, and I was on my way.
Curbside service is an innovation that speaks well for the  human capacity to find  ways to survive. It's a development that teaches us about being resilient in response to challenges in our personal lives, showing us that we can find new ways  to address life's inevitable problems and setbacks, making new paths  through, over, or around  adversity instead of sitting around bemoaning our fate.  The adage "Necessity is the mother of invention" is often repeated glibly, but it has proven  true in many situations:  in the M&M chocolates that  melt in your mouth and not in your hands, in tea bags, Kleenex, ball point pens and a host of other items familiar to us. And the pandemic is proving the saying  to be true by  giving us curbside service to teach us  flexibility, that we can adjust to challenging circumstances and even thrive.
A form of curbside service has gained great popularity among churches. The weekly service  is  streamed a la curbside, and congregants are able to pick up and go for another week. An entire service is packaged for them. Some individuals have expressed concern that churchgoers may become too comfortable with this kind of  service delivery. With the ease of worshiping at curbside, they fear  people may not feel the need to get back into the pews.  But the energy of fellowshipping  with like believers, the  sense of belonging that one gets from being in church,  and the joy of sharing in person their love for Christ  will take them back into the sanctuary. It will be somewhat like a reunion.
In the card aisle at the store recently, I smiled when I saw the words on one card. I bought it, and I share the words with you.
There should be
Curbside delivery
For things like
PEACE,
HEALING,
&
HUGS.
Let us pray to get past this  period of social isolation and into a time when, once again,  peace,  healing, and hugs will be available, not at curbside but in our families, among our friends, and within the walls of our houses of worship.
Blessings,
Judith
---
A big "Thank you" to some of my generous and supportive readers who have ordered copies of my books and had me autograph them to be given to their friends. I so-o-o-o much appreciate your doing this.  I hope many others of you will join these wonderful readers. Send a copy of one of my books to a friend or relative as a "Thank you" for a kindness,  or as a birthday gift, or just to say "I enjoyed reading this book. I think you will also." I hope you'll do it today while you're getting the gentle nudge from me. Thanks a lot.